Servo Delta ASDA-AB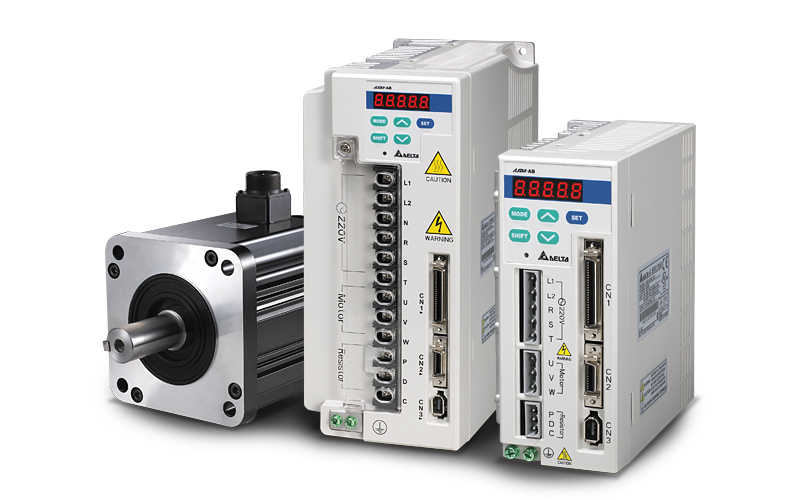 The AB series is a high performance digital servo system with advanced functions and supports various motor options including low, medium and high inertia servo motors to meet different application needs. It offers many motion control functionalities for a wide range of industry and machine applications, as well as provided in the A series. In addition, the AB series implements Modbus communication protocol as a standard, to connect with Delta's programmable logic controller (PLC) and human machine interface (HMI), and establish the advanced architecture of the communication control system.
Major applications include a vast range of machine tools and processing machines for various industries.    
Specifications     

 A wide power range: from 100W to 1.5kW, 1-phase or 3-phase; from 2kW to 3kW, 3-phase   

 Input power supply: from 100W to 400W, AC 100V ~ 115V; from 100W to 3kW, AC 200V ~ 230V   

 Frequency characteristics (Responsiveness): 450Hz   

 Incremental 2500ppr optical encoder   

 Built-in Position / Speed / Torque control modes   

 8 internal programmable registers (point-to-point position control)   

 Various internal control functions for a vast range of applications (as A series)   

 Different inertia motors, from 1000 r/min to 3000 r/min are connectable.   

 Brake, oil seal, etc. motor options are available for different kinds of application fileds.   

 Modbus communication protocol is supported as standard. Communication Interface: RS-232 / RS-485 / RS-422    
Servo Drive and Servo Motor Combinations