POWERFLEX 523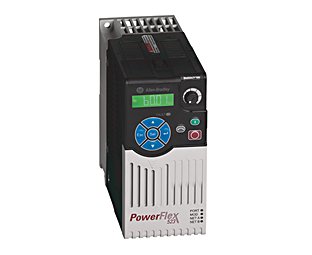 PowerFlex® 523 AC Drives are cost-effective and ideal for standalone machines. These drives provide an innovative, modular design that supports fast and easy installation and configuration. In addition, they offer USB programming, application-specific configuration, and flexible mounting options. PowerFlex 523 AC drives offer a power rating of 0.2...22 kW (0.25...30 Hp) with global voltage classes of 100...600V. They support a wide range of motor control, offer a compact footprint, and operate at temperatures as high as 70 °C (158 °F).
Features
Power ratings of 0.2…22 kW / 0.25…30 Hp in global voltages from 100...600V
Features a modular design with an innovative, removable control core that allows simultaneous installation and software configuration
Offers a wide range of motor control, including volts per hertz, sensorless vector control, and sensorless vector control with Economizer mode
Operates in ambient temperature range up to 70°C (158°F) with current derating and a control module fan kit
Offers side-by-side mounting with 50mm (1.96 in) air-flow gap at the top and bottom of the drive
Supports low-cost networking through an integrated RS485/DSI port
Expanded Power Range Provides More Flexibility for PowerFlex® 523 AC Drives
The new Frame E PowerFlex 523 AC drive extends the power range of these drives up to 22 kW / 30 Hp. This provides more power in a cost-effective drive for standalone applications.
100...120V: 0.2…1.1 kW / 0.25…1.5 Hp / 1.6…6 A
200...240V: 0.2…15 kW / 0.25…20 Hp / 1.6…62.1 A
380...480V: 0.4…22 kW / 0.5…30 Hp / 1.4…43 A
525...600V: 0.4…22 kW / 0.5…30 Hp / 0.9 … 32 A