PHOENIX CONTACT POWER SUPPLY
UNO Series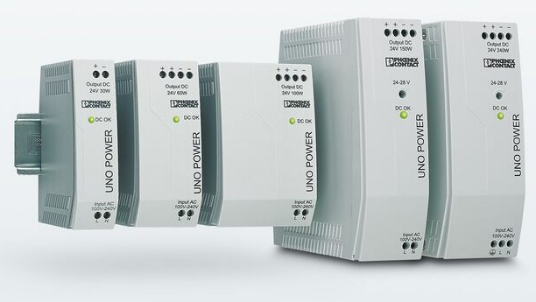 Compact and highly efficient
UNO POWER power supplies offer the ideal solution for loads up to 240 W, particularly in compact control boxes. The wide range of products covers all common voltage levels. Using the UNO POWER power supply provides excellent energy savings, achieved through low idling losses below 0.3 W and optimized efficiency. With efficiencies of over 94% at nominal load, just a small amount of electrical energy is converted into undesired heat energy.
Features
-Save energy, Particularly low idling losses and high efficiency
Narrow housing from 22.5 mm to 59 mm wide
Wide range of products covers all common voltage levels
Robust and reliable at temperatures from -25°C to 70°C
Model
| | |
| --- | --- |
| 2866747 | QUINT-PS, 24DC, 3.5A |
| 2866750 | QUINT-PS, 24DC, 5A  |
| 2866763 | QUINT-PS, 24DC, 10A |
| 2866776 | QUINT-PS, 24DC, 20A  |
| 2866792 | QUINT-PS, 24DC, 20A |
---
TRIO Series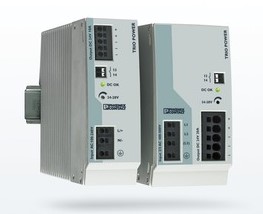 Pure power
The TRIO POWER power supplies are perfect for use in machine building. All functions and the space-saving design are tailored to the stringent demands in this area. The power supply units, which feature an extremely robust electrical and mechanical design, ensure the reliable supply of all loads, even under harsh ambient conditions.
Features
Very cost-effective,  Time-saving, Tool-free Push-in connection and a narrow design
Reliable starting of difficult loads, Tthe dynamic power reserve, with 150% of the nominal current for a maximum of 5 seconds
Electrically robust,  High electric strength
Mechanically robust, High vibration and shock resistance
Maximum flexibility, Wide temperature range from -25°C to +70°C and device startup at -40°C
Model
| | |
| --- | --- |
| 2866268 | TRIO-PS, 24DC, 2.5A |
| 2866310 | TRIO-PS, 24DC, 5A |
| 2866323 | TRIO-PS, 24DC, 10A |
| 2866381 | TRIO-PS, 24DC, 20A |
---
QUINT Series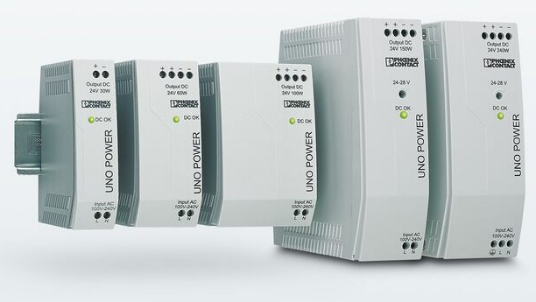 Powerful and reliable
The high-performance QUINT POWER power supplies feature new functions to ensure superior system availability. The unique SFB Technology and preventive function monitoring increase the availability of your application. Signaling thresholds and characteristic curves such as the output voltage can be individually adjusted via the NFC interface.
The QUINT POWER power supplies below 100 W feature the unique combination of preventive function monitoring and power reserve in an incredibly compact size.
Features
SFB Technology selectively trips standard miniature circuit breakers
Preventive function monitoring indicates critical operating states before errors occur
Easy system extension, Static boost, starting of difficult loads, Dynamic boost
High noise immunity, Integrated gas-filled surge arrester and more than 20 ms mains failure buffer time
Space savings in the control box, slim-line design
Model
| | |
| --- | --- |
| 2866747 | QUINT-PS, 24DC, 3.5A |
| 2866750 | QUINT-PS, 24DC, 5A  |
| 2866763 | QUINT-PS, 24DC, 10A |
| 2866776 | QUINT-PS, 24DC, 20A  |
| 2866792 | QUINT-PS, 24DC, 20A |