Signal Tower / Signal Light / Revolving Warning Light Products "PATLITE"
---
Signal Tower
LR Series

Modular LED Signal Tower
---
WE Series

37.5mm Profile
The WE Series is a chrome-plated, slim-styled body "half-moon" signal tower to integrate seamlessly with equipment.
---
WME-D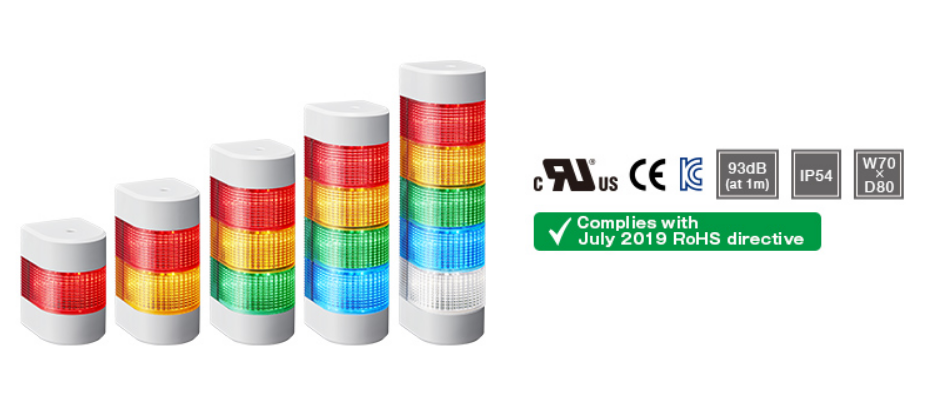 Signal Tower (80mm Profile)
Flush-mounted LED Signal Tower easily installs and is designed to withstand accidental impacts. Upgraded with ultra-bright LEDs, louder alarm and a more durable outer shell.
---
LA6 Series

PATLITE's innovation introduces the new LA6 multi-information Signal Tower, which can be easily manipulated to display various colors and combination of colors in various ways in order to communicate endless applications of "visual information" in a manner that is intuitive and easy to understand.
---
Signal Light
LFH Series

Φ100 LED Signal Light
Patlite's new indoor/outdoor LED Signal Light has superior visibility, even in daylight, with a night-time visibility of 492 feet (150m). The long-life LED offers low maintenance for placement in hard-to-service locations.
The Model LFH LED Signal Light provides about 110 flashes per minute with a triple-flash pattern. It also is designed to resist water (IP66) and is durable for mounting on machinery with its vibration resistance of 9G.
Available with UL certification in 12VDC, 24VDC, 48VDC and 90-250VAC, the LFH has CE markings for the 12VDC, 24VDC and AC90-250VAC types.
---
PFH-BT Series

Battery-operated Flashing Signal Light
Change the "Flash-pattern" and "Lighting" modes for indoor and outdoor and for day and night applications.
---
NE-M1-CL7

NE Multi Color Signal Light
This newly innovative compact LED signal light is designed for a long service life, multi-colored LED array for easy application in any environment, and excellent protection against moisture and dust with a protection rating of IP66 and IP67.
---
Revolving Warning Light
RLR Series

LED 162mm Rotating
Ideal for forklift, Material handling equipment and a great variety of applications.
---
RHE Series

100mm LED Revolving Warning Light
The RHE series is a compact LED revolving warning light featuring enhanced illumination with 1super bright LED chip, a dome and an innovative light dispersion reflector system.