A rugged, high-performance Industrial Personal Computer
PS-4800, PS-4700

19" or 15" TFT Color LCD
CPU: CoreTM2 Duo P8400 or AtomTM N270
"Slide-in slot" for quick & easy storage expansion
Intelligent fan control (CoreTM2 Duo P8400 type only)

19" Industrial Personal Computer
PS-4800
Graphics: SXGA (1,280 x 1,024)
Power Consumption: 130W or less
Type
0 Slot
1 Slot
2 Slots
Specification
Specification
Specification
Expantion slots
None
PCI x1
PCI x1
PCI Express x1
CPU
CoreTM2 Duo P8400
AtomTM N270
CoreTM2 Duo P8400
AtomTM N270
CoreTM2 Duo P8400
AtomTM N270
(2.26GHz)
(1.6GHz)
(2.26GHz)
(1.6GHz)
(2.26GHz)
(1.6GHz)
RAM
DDR3
DDR2
DDR3
DDR2
DDR3
DDR2
(2 to 8GB) *1
(1 to 3GB)
(2 to 8GB) *1
(1 to 3GB)
(2 to 8GB) *1
(1 to 3GB)
OS
Windows XP
Windows XP
Windows XP
Windows XP
Windows XP
Windows XP
Window 7 *2
WES 2009 *3
Window 7 *2
WES 2009 *3
Window 7 *2
WES 2009 *3
WES 2009 *3
WES 2009 *3
WES 2009 *3
WES 7 *3
WES 7 *3
WES 7 *3
Slide-in Disk
(HDD or SSD) x1
Slide-in Slot
None
(HDD or SSD or DVD-RW) x1
I/F (common)
COM x2, LAN x2, USB x5, CF Card x1, DVI-I x1, Sound (Line in/out, mic input)
I/F (option)
COM x1
UPS x1 (DC Power model only)
Cooling method
Fan
Fanless
Fan
Fanless
Fan
Fanless
Rated Input Voltage
AC100 to 240V or DC24V
15" Industrial Personal Computer
PS-4700
Graphics: XGA (1,024 x 768)
Power Consumption: 130W or less
Type
0 Slot
1 Slot
2 Slots
Specification
Specification
Specification
Expantion slots
None
PCI x1
PCI x1
PCI Express x1
CPU
CoreTM2 Duo
AtomTM N270
CoreTM2 Duo
AtomTM N270
CoreTM2 Duo
AtomTM N270
(2.26GHz)
(1.6GHz)
(2.26GHz)
(1.6GHz)
(2.26GHz)
(1.6GHz)
Main Memory
DDR3
DDR2
DDR3
DDR2
DDR3
DDR2
(2 to 8GB) *1
(1 to 3GB)
(2 to 8GB) *1
(1 to 3GB)
(2 to 8GB) *1
(1 to 3GB)
OS
Windows XP
Windows XP
Windows XP
Windows XP
Windows XP
Windows XP
Window 7 *2
WES 2009 *3
Window 7 *2
WES 2009 *3
Window 7 *2
WES 2009 *3
WES 2009 *3
WES 2009 *3
WES 2009 *3
WES 7 *3
WES 7 *3
WES 7 *3
Slide-in Disk
(HDD or SSD) x1
Slide-in Slot
None
(HDD or SSD or DVD-RW) x1
I/F (common)
COM x2, LAN x2, USB x5, CF Card x1, DVI-I x1, Sound (Line in/out, mic input)
I/F (option)
COM x1
UPS x1 (DC Power model only)
Cooling method
Fan
Fanless
Fan
Fanless
Fan
Fanless
Rated Input Voltage
AC100 to 240V or DC24V
Low-profile, Lightweight, Low-power Consumption Embedded model
PS-4700 (Z510)
15" TFT Color LCD
CPU: AtomTM Z510
Start up from CF Card
Fanless operation
Low power consumption (36W)

Low-profile, Lightweight, Low-power Consumption Embedded model
PS-4700 (Z510 model)
Graphics: XGA (1,024 x 768)
Power Consumption: 36W or less


Type
0 Slot
Specification
Expantion slots
None
CPU
AtomTM Z510 (1.1GHz)
Main Memory
DDR2 (1~2GB)
OS
Windows Embedded Standard 2009
Slide-in Disk
None
Slide-in Slot
None
I/F (common)
COM x1, LAN x1, USB x3, CF Card x1
I/F (option)
LAN x1
Cooling method
Fanless
Rated Input Voltage
DC24V
Built-in Computer

PS-4000B
Can be installed remotely from FP3000 Series through DVI cable connection
CPU: CoreTM2 Duo P8400 or AtomTM N270
"Slide-in slot" for quick & easy storage expansion
Intelligence Fan (CoreTM2 Duo P8400 model only)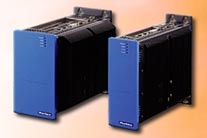 Built-in Computer

PS-4000B
Graphics: Up to 2,048 x 1,536 (QXGA)
Power Consumption: 90W (Core 2 Duo) / 60W (Atom) or less



Type
1 Slot
2 Slots
5 Slots
Specification
Specification
Specification
Expantion slots
PCI x1
PCI x1
PCI x2
PCI Express x1
PCI Express x3
CPU
CoreTM2 Duo
AtomTM N270
CoreTM2 Duo
AtomTM N270
CoreTM2 Duo
(2.26GHz)
(1.6GHz)
(2.26GHz)
(1.6GHz)
(2.26GHz)
Main Memory
DDR3
DDR2
DDR3
DDR2
DDR3
(2 to 8GB) *1
(1 to 3GB)
(2 to 8GB) *1
(1 to 3GB)
(2 to 8GB) *1
OS
Windows XP
Windows XP
Windows XP
Windows XP
Windows XP
Window 7 *2
WES 2009 *3
Window 7 *2
WES 2009 *3
Window 7 *2
WES 2009 *3
WES 2009 *3
WES 2009 *3
WES 7 *3
WES 7 *3
WES 7 *3
Slide-in Disk
(HDD or SSD) x1
Slide-in Slot
None
(HDD or SSD or DVD-RW) x1
(HDD or SSD or DVD-RW) x2 *4
I/F (common)
COM x2, LAN x2, USB x5, CF Card x1, DVI-I x1, Sound (Line in/out, mic input)
I/F (option)
COM x1
COM x1
UPS x1
DVI-D x1
UPS x1
Cooling method
Fan
Fanless
Fan
Fanless
Fan
Rated Input Voltage
DC24V


Dependability
Disk-less System for Secure Operation
SSD or CF Card with Embedded OS ensures stable operation even in locations subject to vibration or shock.



For longer CF Card life, we recommend
saving log data to another storage device



Longer Life of Parts
A large-size heat sink and intelligent fan control reduce load on the parts.*
* Fan-less model with lower operating noise and heat generation is also available.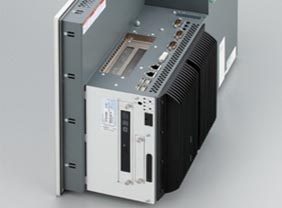 Dependability
Easily Replaceable HDD Drive
The cartridge type HDD/SSD allows easy replacement.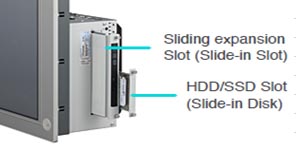 Compatibility
Reusing the Resources of the HMI
With the runtime engine WinGP, screens created in the HMI Screen Editor & Logic Programming Software GP-Pro EX can be used on a PC.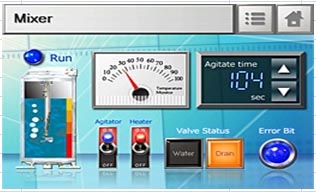 Industrial Touch Monitor
PS-4000B supports FP3000 Series, Pro-face flat panel display, with DVI-RGB conversion cable. (only RGB connection is accepted)