Advanced HMI


For those who need video input
Offering real visualization through video recording and playback




The Event Recorder allows you to analyze the cause with recorded images
Video recording can capture a situation in image form. This feature is effective
for predictive maintenance as well as preservation and analysis of error logs.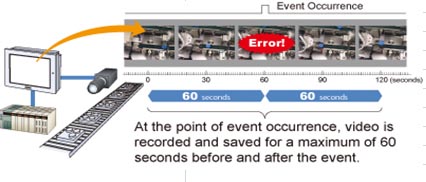 Video functions make operation instructions easy to understand
You can play back a video file right on the GP3000.
Operation instructions in video can display details clearly.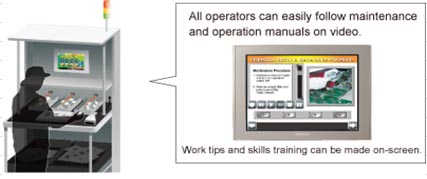 For those who need more flexibility for I/O configurations
This model is equipped with a control function that consolidates I/O processes in the display unit.
Select the DIO type, FLEX NETWORK type and CANopen (master) type best suited to your needs.



The DIO offers direct extensions.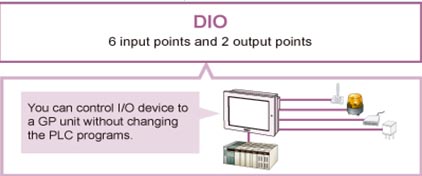 [FLEX NETWORK] and [CANopen (master)] enable less-wiring for remote I/O connections.




"S (Standard) Class" utilizes information from both production site and office
Standard class comes equipped with an information network connection





Connect different devices to the GP3000 Series and save costs
Multiple drivers enable central management of multiple controllers. Link cards are no longer required,
and up to four types of communication devices can be connected to one display unit.



A single GP unit can simultaneously communicate and manage up to 4 devices via Serial and Ethernet I/F.


Simply add GP3000 Series units to an Ethernet network

Multiple GP3000 Series units can be connected to a single PLC over an Ethernet.
The GP3000 Series can even be connected directly to a CPU, making it easy to add new terminals and providing significant cost savings.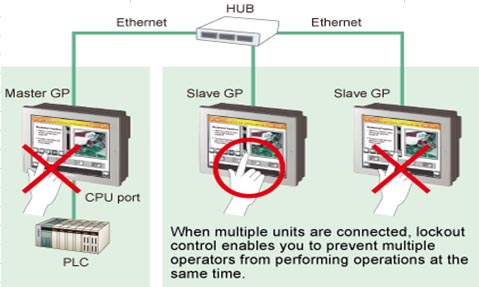 For those who need a handheld HMI The handheld model features enhanced safety and ease of use.



Emergency Stop Switch
The emergency switch securely stops the machine in
the event of emergency and circuit failure.
Safety is improved with the 3-position switch of the positive-opening safety contacts.
The emergency stop switch is selectable between red, yellow, grey and uncolored.
The switch is removable.


3-Position Operation Switch
Should a short-circuit or other malfunction occur, this switch stops operation of the device whether or not it is being held.
The two positions of the positive-opening safety contacts provide enhanced safety.






SIZE
Video
Flexible I/O
Standard HMI
Handheld HMI
M CLASS
C CLASS
S CLASS
H CLASS
15"
12.1"
10.4"
7.5"
5.7"
3.8