DVI I/F Supported Flat Panel Monitor

Flat Panel Monitors "FP3000 Series"
DVI I/F Supported



The featured DVI, clearing graphic images, offers improved visual clarity and operability.

Equipped USB interface which can be connected directly to the peripheral devices.


DVI standard featured Provides vivid images for data
The clear graphic images offer improved visual clarity and operability via DVI cable.  FP3000 Series can also be connected to PC/AT 

*1.  In addition, the exclusive DVI-D cable allows an extension of up to 10m, when connected to our Industrial Personal Computer (PL-3000B) from a remote area.





Remote distance and cables are as follows.


Cable
PC/AT *1
PS4000 Series
PL-3000B
5m
DVI
FP-DV01-50 *2
USB
FP61V-IS00-O or FP-US00
10m
DVI
not connected
-
FP-DV01-100 *3
USB
3rd Party *1


USB Interface featured

A single USB cable can eliminate a mess of wires, allowing easy data maintenance.
For FP-3900T/ FP-3710T/ FP-3710K (With front USB)

Direct connection between the FP unit and a USB device!
An exclusive USB cable handles both touch and USB device data, leading to simple wiring.
This allows you to perform data maintenance without opening the operation panel.





Make power source the same as Built-in Computer
FP3000 series supports the same power source (AC100-240V or DC24V) as Built-in Computer. It is an advantage to build a system structure
with Built-in Computer using the same power source.Also a system start-up sequence becomes simple thanks to the same power supply system.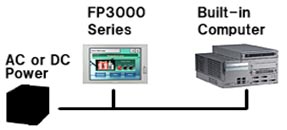 Single unit integrating front keypad, mouse and display!!
Membrane keypad on the front panel secures data input in harsh industrial environment.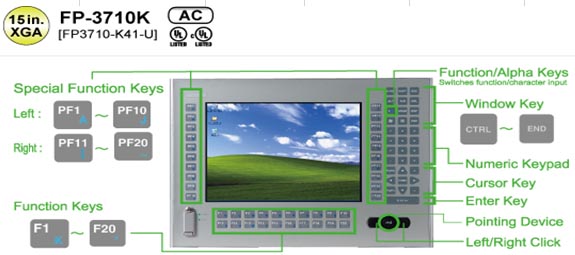 Durable even in harsh environments
Pro-face creates environmental resistance equivalent to IP65f. The overlay (front sheet) protects the panel from oil mists, water droplets,
and/or dust. Furthermore, its superior concussion and high-temperature resistance enable safe use at various sites.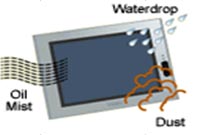 Panel Cut-Out Dimensions
All FP Series models are designed with identical panel cut-out dimensions.
This saves you the trouble of changing the mounting holes when attaching a new panel.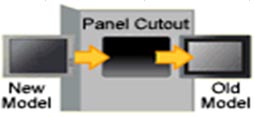 Display
Product Name
Model No.
Power Consumption
Front USB
Display Dots
Size
Interface
(Pixels)
19"
FP-3900T
FP3900-T41-U
AC
O
SXGA
FP3900-T41
AC
X
SXGA
15"
FP-3710T
FP3710-T42-U
AC
O
XGA
FP3710-T42
AC
X
XGA
FP3710-T42-24V-U
DC
O
XGA
FP-3710K
FP3710-K41-U
AC
O
XGA
(with Front Keypad)
(End of sale: 2012/9/28) 
12.1"
FP-36x0T
FP3650-T41
AC
X
XGA
FP3600-T11
AC
X
SVGA
FP3600-T41-24V
DC
X
SVGA
10.4"
FP-3500T
FP3500-T11
AC
X
VGA
FP3500-T41-24V
DC
X
VGA