Compact HMI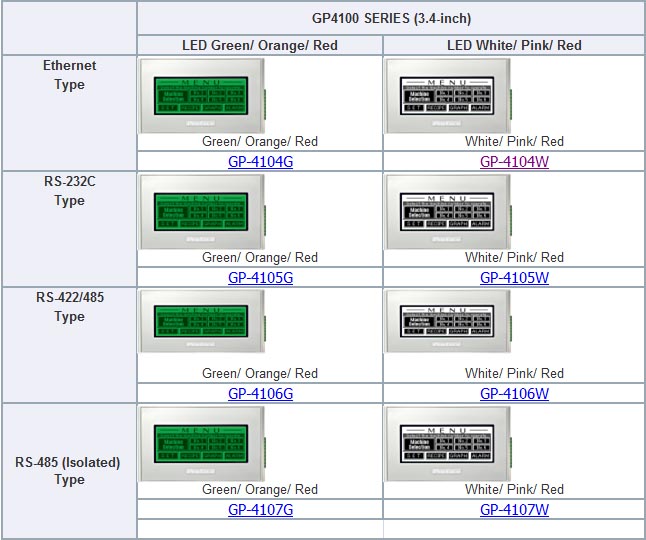 Name

Model No.

Backlight Colors

Display Type

Ethernet

Serial

USB

Input Voltage

GP-4104G
GP4104G1D
Green/ Orange/Red
3.4-inch
Yes
No
Type A
DC24V
GP-4104W
GP4104W1D
White/ Pink/
STN Monochrome LCD
Yes
No
/mini B
Red
GP-4105G
GP4105G1D
Green/ Orange/Red
No
Yes
GP-4105W
GP4105W1D
White/ Pink/
RS-232C
Red
GP-4106G
GP4106G1D
Green/ Orange/ Red
No
Yes
GP-4106W
GP4106W1D
White/ Pink/
RS-422/ 485
Red
GP-4107G
GP4107G1D
Green/ Orange/ Red
No
Yes
GP-4107W
GP4107W1D
White/ Pink/
RS-485 (Isolated)
Red

Select the best model for your application
Select from two backlight color patterns
6 models in total, 2 patterns for 3 color-backlights and 3 types of serial interfaces, are available.




Select vertical or horizonal installation
The GP4100 unit can be installed vertically or horizontally, so it can be designed freely according to various purposes.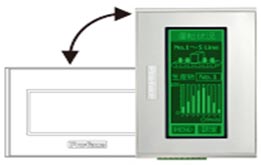 Features of large-sized models in small package
Saving sampling data in a USB storage device NEW
The data (sampling data) sampled by sampling feature is saved in CSV format on an USB storage device.
This improves the efficiency of preparing daily and monthly reports.




Easy to connect to control devices without programs
GP4100 Series allows you select suitable communication either Ethernet model and Serial model.

Easy to add sub-displays on a large-sized machine
GP4104 allows you to add it as sub-display by the Ethernet multi-link function without changing machine settings.


A variety of interfaces

Easy transfer of screen data without a PC (USB Type A)

Easy screen editing using a USB flash drive without bringing a PC to the site.
Connectable to a USB Bar-code/ 2D code Reader
USB connection allows data scanning with easy setup.


* Use a self-powered USB hub when using a USB Bar-code/ 2D code Reader.


Connect to devices using USB to SIO conversion


Support for expanded SIO scripts allows simultaneous connection to a temperature controller and PLC.


Ladder data can be transferred by USB flash drives


Ladder data can be transferred from a display unit to TCmini/TC200, PLCs manufactured by Toshiba Machine, Co., Ltd.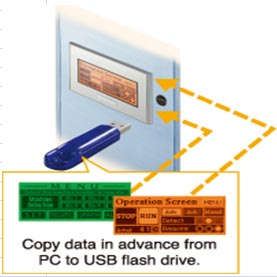 Easy editing of Third-party PLC ladder programs (USB Type mini B) The Pass-through feature allows you to easily edit PLC ladder programs and change
the configuration via a HMI, without switching cables on site.



GP-Pro EX, Pro-face's screen editing software for all Pro-face products



GP-Pro EX allows efficient, hassle-free screen creation and debugging, providing significant reduction of development time.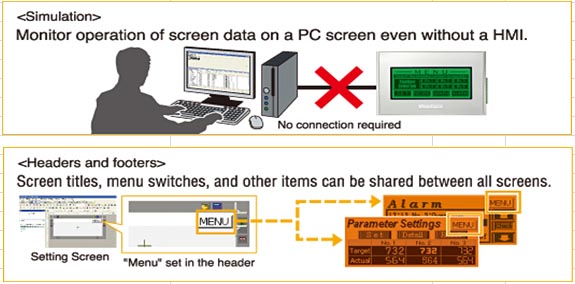 Easy-to-read display in a compact size
Texts
Small characters are displayed clearly with 200 x 80 pixel resolution allowing for flexible screen editing regardless of character size.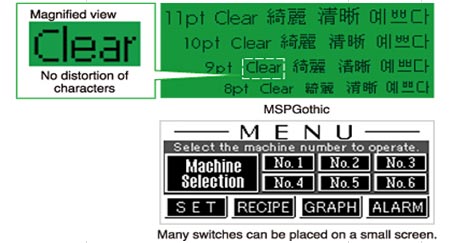 <Multi-Language support>


Provides flexibility in multi-lingual environments by offering a choice of display languages familiar to operators.






Alarm history display>


Messages can also be displayed using image fonts allowing for easy-to-read error identification.
Parts samples are prepared for GP4100 Series.

Numeric characters
Numbers are clearly displayed with bitmap and image fonts



Stylish parts
Recognizable and easy-to-operate screens can be created using clear 16-grayscale parts.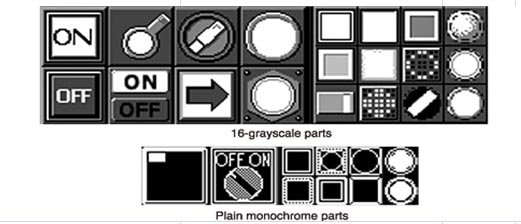 Visual information
A wide variety of graphs are available for screen design, providing visual representation of operational status.




Crisp images
JPEG and BMP images can be displayed clearly with 16 levels of grayscales



Unigue start-up screen can be created.