PLC OMRON CJ I/O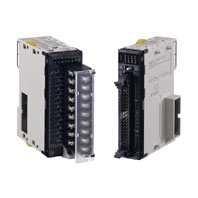 A wide range of CJ series input units are available featuring high-speed input and suitability for various applications. This unit is available for CJ/NJ controllers.
 Featuers
• High-speed input models are available, meeting versatile applications. ON Response Time: 15μs, OFF Response Time: 90μs
• Use 24-VDC, 100-VAC, and 200-VAC models to connect to devices with different types of outputs.
• The 24-VDC models can be connected to devices with either NPN or PNP outputs. There is no need to select the polarity. *1
• A digital filter in the Unit can be set from 0 to 32 ms to reduce the influence of external noise.
• Either a Fujitsu or MIL connector interface can be used. *2
• Several models of Terminal Block Conversion Units are available, making it easy to connect to external devices.
*1. The same polarity is used for the same common.
*2. For models with 32 or 64 inputs.