Fire mode
Digistart IS has an in-built fire mode. This is used in HVAC applications to help protect building occupants in the case of fire by pressurising escape routes to maintain a smoke free environment. Activation of this feature disables the soft starter protection ensuring it continues to run for as long as possible.
Powerthrough operation
Digistart IS's powerthrough operation ensures the soft starter will continue to operate using 2 phases if one of the power devices is damaged. This allows you to keep your plant running whilst a long term fix is found.
Increased output
The Digistart IS allows the motor to be connected either in-line (three wire) or using an inside delta configuration (six wire). Inside delta configuration increases the power of the soft starter, meaning a smaller unit can be used. This is a compact, cost efficient solution when replacing star/delta starters where existing wiring can be used.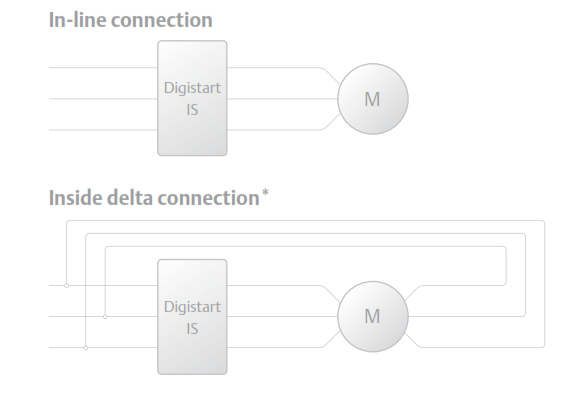 Other advanced features
Forward/reverse jog for low speed manual machine positioning
DC braking to electrically brake high inertia machines
Profibus, DeviceNet and Modbus RTU communications
Expandable I/O


Digistart IS options
| | |
| --- | --- |
| Order code | Description |
| Digistart IS - Keypad mount kit | This allows the keypad to be remote mounted up to 3m from the soft starter. When panel mounted the keypad is IP65 rated. |
| Digistart IS - Fingerguard | Finger guards are available to provide IP20 protection for models IS2x0145B to IS2x0220B. |
| Digistart IS - I/O Expansion | Provides additional 2 x digital inputs, 3 x relay outputs, 1 x analog input and 1 x analog output. |
| Digistart IS - RTD & GND Fault Card | The RTD (resistive temperature device) and GND (ground fault protection) card provides additional 6 x PT100 RTD inputs and 1 x ground fault input. |
| Digistart IS - Volt Measure Card | Allows real-time monitoring of mains voltage, eliminating the need for external devices. The volt measure card also enables under voltage and over voltage protection. |
Digistart IS model numbers and ratings
Ratings are given at 40°C at <1000m
Size

Model

Medium

nominal

Medium

heavy

Severe

kw @ 400v AC53b 3.5-15:345

AC53b 3.0-10:350

AC53b 3.5-15:345

AC53b 4.0-20:340

AC53b 4.5-30:330

IS1x0023B

7.5

23A

20A

17A

15A

1A

IS1x0043B

15

43A

37A

31A

26A

IS1x0053B

22

53A

53A

46A

37A

Size

Model

kw @ 400v AC53b 3.5-15:585

AC53b 3.0-10:590 A

AC53b 3.5-15:585 A

AC53b 4.0-20:580 A

AC53b 4.5-30:570 A

1B

IS1x0076B

30

76A

64A

55A

47A

IS1x0097B

37

97A

82A

69A

58A

IS1x0105B

55

105A

105A

95A

78A

2

IS2x0145B

60

145A

123A

106A

90A

IS2x0170B

75

170A

145A

121A

97A

IS2x0200B

90

200A

189A

160A

134A

IS2x0220B

110

220A

209A

177A

147A

Size

Model

kw @ 400v AC53a 3.5-15:50-6

AC53a 3.0-10:50-6

AC53a 3.5-15:50-6

AC53a 4.0-20:50-6

AC53a 4.5-30:50-6

3

IS3x0255N

132

255A

222A

195A

171A

4

IS4x0360N

160

360A

351A

303A

259A

IS4x0430N

220

430A

413A

355A

301A

IS4x0650N

315

650A

629A

532A

437A

IS4x0790N

400

790A

790A

694A

567A

IS4x0930N

500

930A

930A

800A

644A

5

IS561200N

600

1200A

1200A

1135A

983A

IS561410N

700

1410A

1355A

1187A

1023A

IS561600N

800

1600A

1600A

1433A

1227A
Ratings for Digistart IS models IS3x0255N and above are detailed using the AC53a utilisation code specified by IEC60947-4-2

Digistart dimensions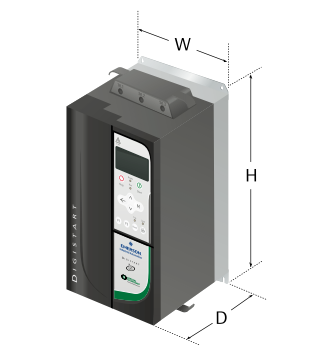 Digistart iS dimensions

Size

width (w)

height (h)

Depth (D)

weight

1A

156.4mm (6.16in)

294.6mm (11.60in)

196mm (7.72in)

3.2kg (7.1lb)

1B

226mm (8.90in)

4.8kg max (10.6lb)

2

282mm (11.10in)

438mm (17.24in)

254mm (10.00in)

16kg (35.3lb)

3

394mm (15.51in)

460mm (18.11in)

284mm (11.18in)

25kg (55.1lb)

4

430mm (16.93in)

694mm* (27.32in)*

302mm (11.89in)

53.5kg max (118lb)

5

574mm (22.60in)

862mm* (33.94in)*

364mm (14.33in)

140kg (308.7lb)
*Maximum height inclusive of busbar
Digistart specifications
Digistart IS

Start modes

Constant current/Current limit
Current ramp
Adaptive
Kickstart

Stop modes

Coast to stop
TVR soft start
Adaptive

General

Current Range
23A to 1600A (nominal)
Motor connection
In-line or inside delta
Bypass
Integrated internal or external

Supply

Mains Voltage
ISx4xxxxx
200 to 440Vac (±10%)
ISx6xxxxx
380 to 690Vac (±10%)
Control Voltage
110 to 210Vac (+10% / -15%)or 220 to 440Vac (+10% / -15%)
Mains Frequency
45Hz to 66Hz

Inputs

Inputs
Active 24Vdc, 8mA approx
Start
Normally Open
Stop
Normally Closed
Reset
Normally Open or Closed
Programmable Inputs
Input A
Normally Open or Closed
Input B
Normally Open or Closed
Motor Thermistor
RTD/PT100

Outputs

Relay outputs
10A at 250Vac resistive
5A at 250Vac, AC15 pf 0.3
Run Relay
Normally Open
Programmable Outputs
Relay A
Normally Open
Relay B
Changeover
Relay C
Changeover
Analog Output
0-20 mA or 4-20 mA
24 Vdc Output

Environmental

RoHS compliant
Protection
IS1x0023B to IS1x0105B
IP20
IS2x0145B to IS5x1600N
IP00
Operating temperature
-10°C to +40°C, max 60°C with derating
Storage temperature
-25°C to 60°C
Humidity
5% to 95% Relative Humidity
Conformal coating
As standard